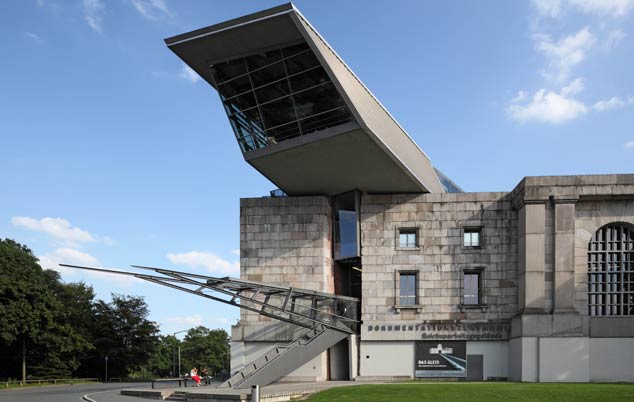 Due to the current spread of coronavirus, we are closing our house until further notice. All events and educational programs are cancelled.
Important notice: Documentation Center Expansion to Start in 2021
Owing to the planned expansion work the Documentation Center at the Nazi Party Rally Grounds is closed. From March 2021, most likely until the autumn of 2023, a specially conceived Interim Exhibition, "Nuremberg – Site of the Nazi Party Rallies. The Staging, the Experience, the Violence" (available in two languages, German and English) will present the history of the Nazi Party Rallies, and of the Grounds, in a compact format in the Documentation Center's large exhibition hall. Educational events are also planned to accompany the Interim Exhibition, and will be available by reservation. Please watch our website for the latest information about the Interim Exhibition's visiting hours, the new educational events, and the future vehicle access to the building, all of which will be published soon.
Special hours for holidays in 2021
| | |
| --- | --- |
| 2 April (Good Friday) | 10 a.m. - 6 p.m. |
| 3 April (Holy Saturday) | 10 a.m. - 6 p.m. |
| 4 April (Easter Sunday) | 10 a.m. - 6 p.m. |
| 5 April (Easter Monday) | 10 a.m. - 6 p.m. |
| 1 May (Labour Day) | 10 a.m. - 6 p.m. |
| 13 May (Ascension Day) | 10 a.m. - 6 p.m. |
| 23 May (Whitsunday) | 10 a.m. - 6 p.m. |
| 24 May (Whitmonday) | 10 a.m. - 6 p.m. |
| 3 June (Corpus Christi) | 10 a.m. - 6 p.m. |
| 3 October (Day of German Unity) | 10 a.m. - 6 p.m. |
| 1 November (All Saints' Day) | 10 a.m. - 6 p.m. |
| 24 December (Christmas Eve) | closed |
| 25 December (Christmas Day) | closed |
| 26 December (Boxing Day) | 10 a.m. - 6 p.m. |
| 31 December (New Year's Eve) | 10 a.m. - 6 p.m. |