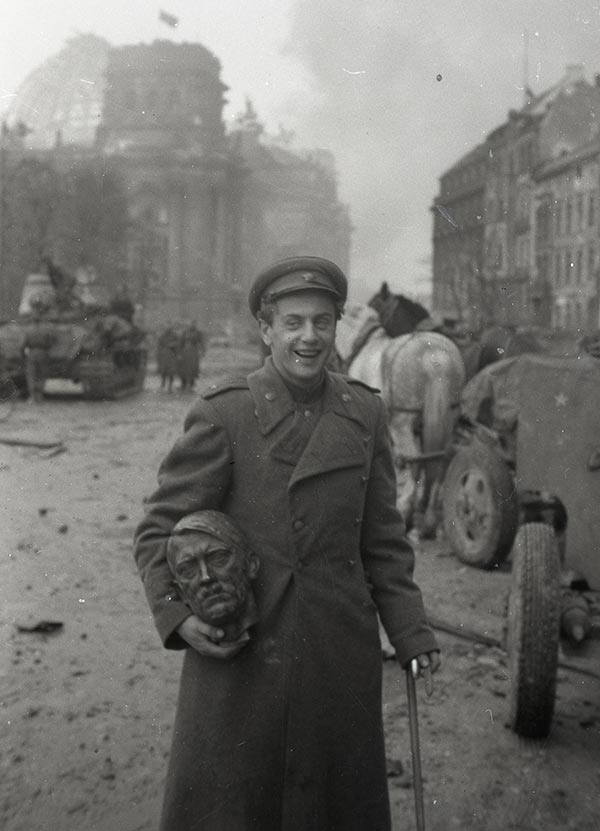 The exhibition is extended until Sunday, October 3, 2021!
The photo exhibition commemorates the 76th anniversary of the end of World War II.
The Soviet photographer Yevgeny Khaldei (1917-1997) is one of the most important photographers of the 20th century. His pictures illustrate the horrors of the Second World War and document the committed crimes. They also bear witness to hope and reconstruction in the post-war period. His photograph of the raising of the Soviet flag at the Reichstag building in 1945 made him famous worldwide. After World War II, he also photographed the destroyed City of Nuremberg and the Nuremberg "Major War Crimes Trial."
The exhibition has been created in cooperation between the City of Nuremberg and the Russian Federation. It has been curated by the Memorium Nuremberg Trials.
Languages
The exhibition is available in German, English and Russian.
Venue of the Exhibition
Memorium Nuremberg Trials
Cube 600
Fürther Straße 104
90429 Nuremberg
Opening Hours
The temporary exhibition can be visited during the regular opening hours of the Memorium Nuremberg Trials.
Cost:

Admission is free of charge. Temporary exhibitions can be visited independently of the permanent exhibition of the Memorium Nuremberg Trials.