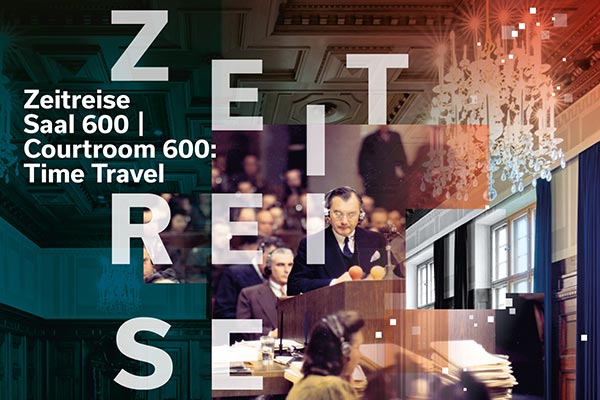 We take you on a virtual journey through space and time: The media installation "Zeitreise Saal 600 | Courtroom 600: Time Travel" takes you back almost 80 years to the historic event of the Nuremberg Trials and lets you experience Courtroom 600 in a new way.
The historical site has changed significantly due to its diverse construction history. The media installation brings together original footage from the Nuremberg Trials with a digital reconstruction of Courtroom 600, showing it in a completely new way at the time of the Nuremberg Trials. Extensive technology allows a play between the digital reconstruction of the room, the historical film and photo material as well as a visual world that makes the room's impact on the world's historical development understandable and emphasises the importance of international law to this day.
The media installation can be seen as part of the permanent exhibition from 21 November 2022 at the following times every day (except Tuesdays). Please arrive in good time, as access will no longer be possible after the media installation has started:
10.30am, 12pm, 1.30pm, 3pm and 4.30pm
We deliberately avoid showing acts of violence. Nevertheless, serious human rights violations and war crimes are addressed and reflected upon.
Languages
The media installation can be experienced entirely in German and English.
Duration
15 minutes
Location of the exhibition
Memorium Nuremberg Trials
Courtroom 600
Bärenschanzstraße 72
90429 Nuremberg
Opening hours
The media installation can be seen as part of the permanent exhibition during the regular opening hours of the Nuremberg Trials Memorial.
Opening hours of the museum
---
The Art Directors Club for Germany (ADC) has awarded the media installation with the ADC Nail in Silver in 2023. The competition annually honors the best communication and design achievements in the German-speaking world. The jury announced: "With the media installation in Courtroom 600, the past is brought to life and by linking real space and media set pieces from the past. The history is displayed uniquely that would otherwise not be possible in such an impressive way."
---
Costs
The media installation can be visited as part of the permanent exhibition at the regular entrance fees of the Memorium.
Regular entrance fees of the Memorium
Trailer for the Media Installation