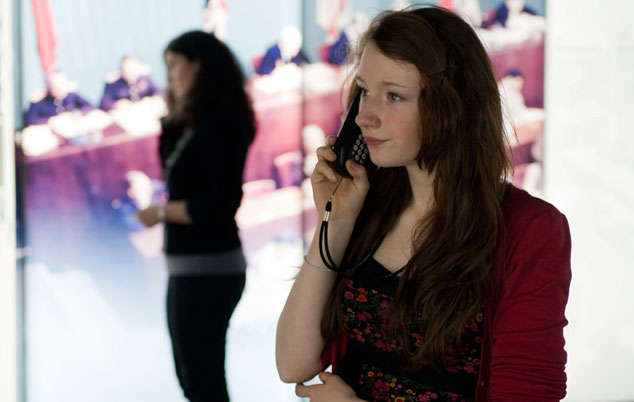 Admission includes an audio guide to the exhibition. Available languages are German, English, French, Spanish, Italian, Chinese, Russian and Polish. The audio guide includes all the exhibit texts as well as the sound for the original films and sound recordings included in the exhibition.
Produced by soundgarden audioguides GmbH for the Memorium Nuremberg Trials, Nuremberg Municipal Museums.
www.audioguide.de
Before your visit at the Memorium Nuremberg Trials you can download our audioguide files. Here we present a selection to give you an overview.
600 – Court Room 600 (audio file mp3, 4,96 MB)
104 – German War Crimes (audio file mp3, 1,57 MB)
108 – International Military Tribunal (audio file mp3, 862 KB)
111 – Counts of the Indictment (audio file mp3, 744 KB)
114 – Refurbishments for the Trial (audio file mp3, 1,34 MB)
230 – Prosecution Documents: Introduction (audio file mp3, 715 KB)
307 – Audiodocument: Jackson's Opening Statement (audio file mp3, 2,36 MB)
309 – Taking on the Defence (audio file mp3, 1,63 MB)
314 – Witnesses (audio file mp3, 1,74 MB)
318 – Simultaneous Interpreting (audio file mp3, 1,27 MB)
403 – Audio document: statement Ohlendorf (audio file mp3, 943 KB)
413 – Reading of Sentences (audio file mp3, 1,26 MB)
601 – The Follow-Up Trials - Overview (audio file mp3, 883 KB)
610 – Difficulties in Dealing with the Past (audio file mp3, 1,64 MB)
611 – Dealing with the Past through Criminal Trials (audio file mp3, 1,33 MB)
702 – Tribunals for Yugoslavia and Rwanda (audio file mp3, 1,89 MB)
704 – The International Criminal Court in the Hague (audio file mp3, 1,97 MB)
You want to learn more about a certain topic? Here you can find all files in chronological order.
All audioguide files