Albrecht Dürer's House is open again. All details about your visit and the advance registration online can be found on this page
Visitor registration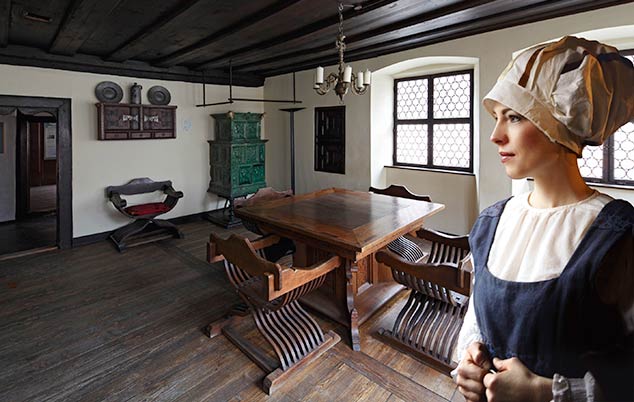 An actress portraying Agnes Dürer, the wife of the great Nuremberg artist, will guide visitors through her house in person.
Complete with house mistress' bonnet and large key-ring fixed to her apron, she meets the visitors and tells "inside stories". So interested visitors may find out quite a bit about life and work in an artist's household, about Agnes' work in kitchen, workshop and house, about illustrious guests and (sometimes less than) industrious apprentices, about her dealings with money, and her (not always easy) relationship with Albrecht Dürer.
Prices
3.00 EUR per adult
2.00 EUR per school student
(in addition to normal admission fee)
This tour is held in English at 2:00 every Saturday afternoon.
Tours are held in German at 3:00 every Tuesday, Wednesday and Saturday afternoon, at 6:00 every Thursday evening, and at 11:00 every Sunday morning.
Guided tours for groups
Special guided tours with "Agnes Dürer" for groups may be arranged outside the fixed tour times. These tours are available in German, English, French, and Russian.
For questions, reservations and bookings:
Tel. +49 (0)911 231 - 25 68
Fax +49 (0)911 231 - 24 43
Contact form