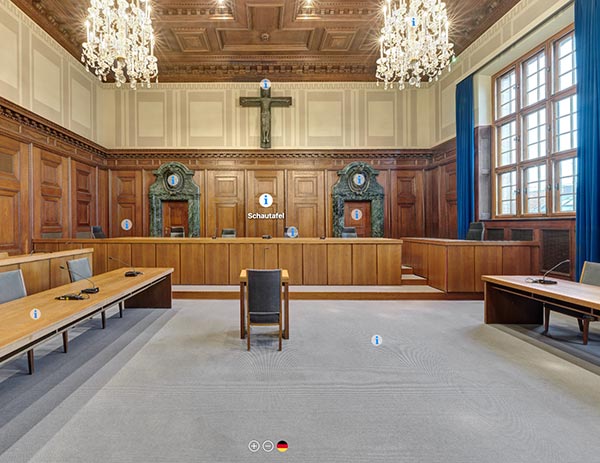 Courtroom 600, where the world-famous Nuremberg Trials took place, is the most important exhibit of the Memorium Nuremberg Trials. In a moderated online seminar, the historic site can be discovered digitally and more can be learned interactively about the Nuremberg Trials: How did the Nuremberg Trials come about? How did Courtroom 600 change through time? Who sat in the dock and what were the verdicts? These and many other questions are addressed in our new digital program.
In the online seminar "Courtroom 600 – a virtual tour", school classes and groups can explore the courtroom by themselves using a 360° panoramic view. The participants get to know the special features of the site and learn essential aspects about the Nuremberg Trials. In this online seminar, the group will be digitally accompanied by one of our experienced guides.
The 360° panorama is available here:
Courtroom 600: a virtual tour
Organizational details:
The offer takes place exclusively digitally via MS Teams. After we have confirmed your booking, you will receive an email with a link that the group can use to log in. You do not need to install MS Teams or register you can dial in via the link in your browser.
Please dial in 10 minutes before the start of the online seminar. This will allow us to ensure that the group can start on time.
Technical requirements:
All participants will need an internet-enabled device with a microphone. A camera that is turned on is also desirable.
Please use our contact form for booking the program
Contact form
Duration:

60 minutes

Cost:

English: 90 EUR/ reduced 40 EUR
German: 70 EUR/ reduced 30 EUR

New from 01.09.2023:
English: 90 EUR/ ermäßigt 70 EUR
German: 80 EUR/ ermäßigt 60 EUR

Audience:

School and university students, young people (up to 18 years of age), adults, members of police and German army