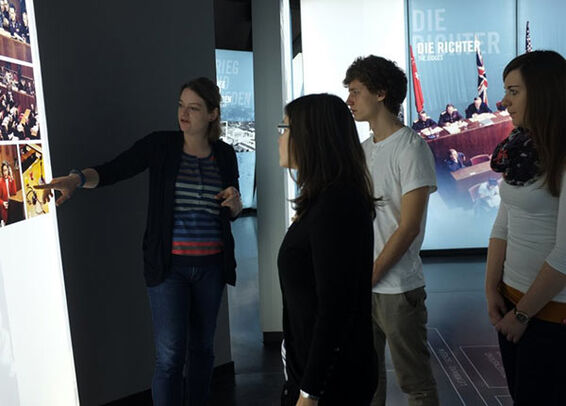 What legal basis did the victorious allied powers use for the Nuremberg Trial? What was the basis for the claim that this was a fair trial? What were the legal, moral and political dimensions of the Trial of the Main War Criminals?
These and other questions will be addressed during a joint tour of the exhibition. The focus will be on the defendants, the prosecutors, the defence counsels, the witnesses and judges as well as the crucial moments of the trial. In addition, tour participants will be given some insight into the so-called Follow-up Trials and the establishment of the International Criminal Court in The Hague. The tour will also comprise a visit to Court Room 600, provided no trial is in progress at the time.
If desired, focus points or specific issues may be agreed in advance when the guided tour is booked, such as a focus on specific defendants, on the role of the military during World War II or on the way the judiciary of the Federal Republic of Germany dealt with National Socialist crimes.
Please note
The Memorium is open only to visitors who have been vaccinated, have recovered, or have recently tested negative. You must also wear a medical ("surgical") face mask.