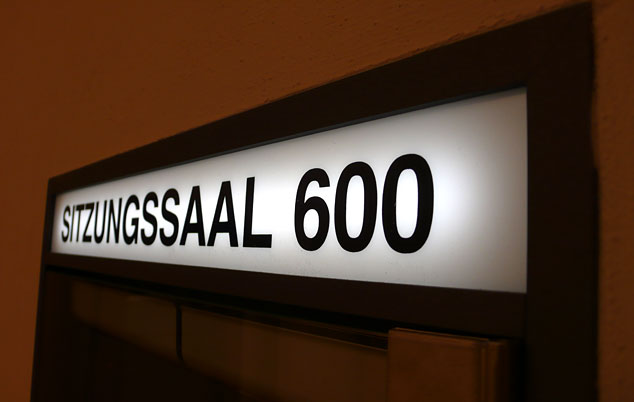 The first of the so-called Subsequent Nuremberg Trials, known as the "Doctors' Trial," commenced in Courtroom 600 on December 9, 1946. In the period up to 1949, a total of 12 trials were conducted before U.S. American military tribunals here and in other rooms of the Nuremberg Palace of Justice.
But even after these trials were concluded, the building was still used by the United States and was returned in increments to the German authorities over the next 20 years. Courtroom 600 was officially transferred to the control of the Bavarian justice authorities on June 30, 1961. In the same year, extensive construction work was performed on the courtroom to reverse the structural changes made by the Americans. Completely new furniture was also added at this time. Since this time, the courtroom has been used as a German court.
The Nuremberg Municipal Museums first began to offer public tours of the historic Courtroom 600 on weekends in May 2000. The number of visitors increased every year. As a result of the structural work performed in connection with the Memorium Nuremberg Trials, it was no longer possible to conduct these tours after December 2008.
The renovation of previously unused space on the attic floor enabled the installation of the new permanent exhibition of the Memorium Nuremberg Trials. As of 1 March 2020, Courtroom 600 is no longer being used for trials. For the first time in its over 100 yearlong history, it is no longer a place of jurisprudence and its changing process from court room to site of memory is being completed.