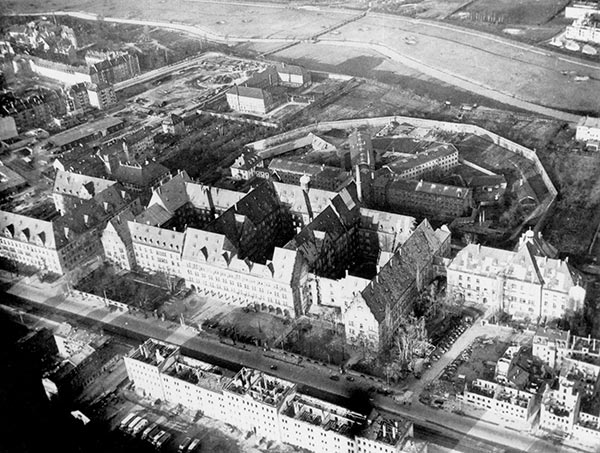 From summer 1945 on the U.S. Army had been using the justice building and the neighboring prison as well as further facilities for the infrastructure of the Nuremberg Trials. In the east wing of this "Palace of Justice" there is Courtroom 600 in which the trials took place. During our tour we explain where hundreds of employees of the court had their workplaces, how the communication from the justice building to places all around the world was managed, how the defendants where brought from their prison cells into the courtroom, and where they had the opportunity to talk with their defense counsels.
A visit of the exhibition and Court room 600 are not part of this program.
Date
December 23, 2021, 3.30 p.m.
Please note:
The number of participants is limited. Registration is therefore strongly recommended under
Tel. (0911) 231 - 28 614 or
memorium@stadt.nuernberg.de
From Friday to Sunday, registrations are only possible by telephone.
Meeting point:
Entrance of the Memorium Nuremberg Trials. Please be at the meeting point 10 - 15 minutes prior to the start of the tour.
Duration:

approx. 60 minutes

Cost:

3 EUR/ 2 EUR reduced (Admission to the exhibition is not included)