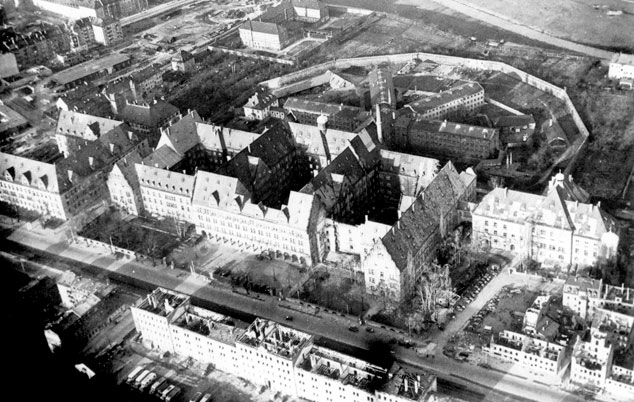 There were a variety of reasons for Nuremberg being chosen as the venue for the trials. First, a political agreement had to be reached between the United States and the Soviet Union, both of which had advocated for holding the trials in their respective occupation zones. The permanent seat of the specially instituted International Military Tribunal was established in Berlin under Soviet leadership. However, the first trial of the many that were originally planned was supposed to be held in the U.S. occupation zone, and a suitable location had to be found for this purpose.
This decision reached by the Allies at the London Conference in August 1945 was motivated primarily due to infrastructure considerations. The barely damaged Palace of Justice on Fürther Strasse offered sufficient room for the numerous representatives of the four Allied nations. The adjacent prison located just to the north of the Palace of Justice simplified the problem of housing and protecting the prisoners. While Nuremberg's historic role as the "City of Nazi Party Rallies" and as the place where the Nazi "Race Laws" were announced was not the decisive reason for choosing the city as the venue for the trials, it did lend a certain symbolic significance to this choice.
In preparation for the trial, a wooden connecting passage was built between the prison and the East Building as a means of securely transporting the prisoners from their prison cells to the courtroom. The grounds around the building complex were also extensively secured.
Continue reading: "Courtroom 600 as the site of the Nuremberg Trials"