In our press section, journalists and people working in other media outlets are able to find relevant information about ongoing projects or events at the Memorium Nuremberg Trials. Furthermore, you are able to download photographs for your news coverage on the Memorium or watch videos of our collection. In case of any questions or if you are in need of any other material, please do not hesitate to contact us.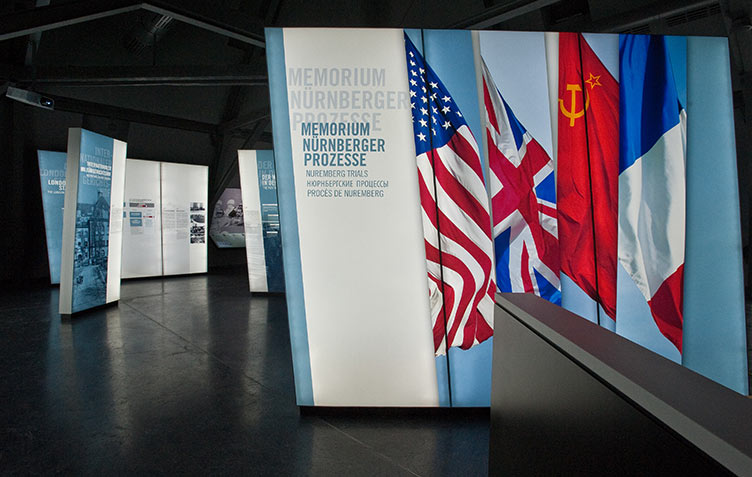 Information on the Institution
The Memorium Nuremberg Trials is part of the "Nuremberg Municipal Museums" and represents an important aspect of the active culture of remembrance of the City of Nuremberg. Its task is primarily to understand and inform about the multilayered issue of coming to terms with the past in regard to national socialist crimes from 1945 until today. It does so at the historic site of the Nuremberg Trials. It offers a realm of information and discussion about the dealings with structural governmental injustice and systematic human rights abuses in historical and recent perspective.
The Memorium understands itself as an institution concerned with historical-political education. In general, our educational services are open to any interested audience and do not require specific knowledge beforehand. Cultural inclusion is important to us and it is our aim to open our museum to anyone interested.
Download our Photographs
In this download section you can find historic photographs of the Nuremberg Trials and recent photographs of Courtroom 600 and the exhibition at the Memorium Nuremberg Trials. The photographs are free to use solely in conjunction with current media coverage of the specified exhibition or the specified project of the Memorium Nuremberg Trials. It is not allowed to edit them in any way. When such a file is used for media coverage, it must be accompanied by the name of the work's author and the source information specified by the Memorium Nuremberg Trials. Any other use of the material would represent a violation of copyright law and can result in legal action.
Find historic and recent Photographs
Stream our Videos
In the last years, important events at the Memorium Nuremberg Trials have been filmed. Here you can find a selection of videos, which are streamed via YouTube.
Stream our Video Collection
Photography and Filming Permits
Do you want to work in Courtroom 600 or in our exhibition for your photography or filming project? Please find more information on conditions and permits here.
Information of Photography and Filming Permits
Social Media
Keep in touch on Facebook! The Memorium Nuremberg Trials has its own Facebook page and keeps you updated on events, our work and most recent information.
Find us on Facebook