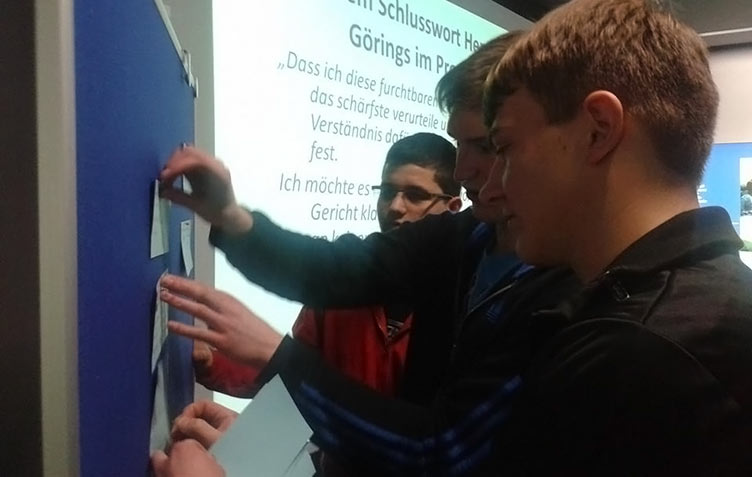 In co-operation with its partners (cf. p. 24), the Memorium Nuremberg Trials develops a variety of educational programmes in conjunction with exhibition visits, illustrating the history of the location and responding to visitors' questions. The programmes are aimed at students from all types of schools, youth groups, apprentices and adults from all professions as well as private individuals.
The programmes vary according to target group and duration. They may be booked as 2-hour, 3-hour and 4-hour programmes. The 2-hour programmes comprise a guided tour of the permanent exhibition with various activity or dialogue elements. In some cases, the 3-hour module is supplemented by film material, and the 4-hour module provides an opportunity for group work. Depending on the target group, interactive elements are an important element in the shorter formats, too.
As an alternative to moderated discussions, the Memorium Nuremberg Trials also offers a 1 1/2-hour standard guided tour of the exhibition.
Guided tours for groups
Moderated discussions
The educational programmes must be booked two weeks before the visit to the exhibition at the latest. You will receive a confirmation of your booking and will be asked to pay when you come to the museum, either in cash or with ec-cash.
The booking is binding as soon as you have received your booking information. When the programme is cancelled by the customer, a forfeit fee is payable. It amounts to the full fee, if the programme is cancelled one day before the agreed date (for weekend dates, the deadline is Friday noon), and to half the programme fee, if the cancellation is within seven days before the agreed date.
Contact
Memorium Nuremberg Trials
Department of Education
Tel. +49 (0)911 231 - 28 614
Fax +49 (0)911 231 - 28 615
Contact form
Data security
Only the data necessary to process your booking request will be gathered
Data Privacy Notice