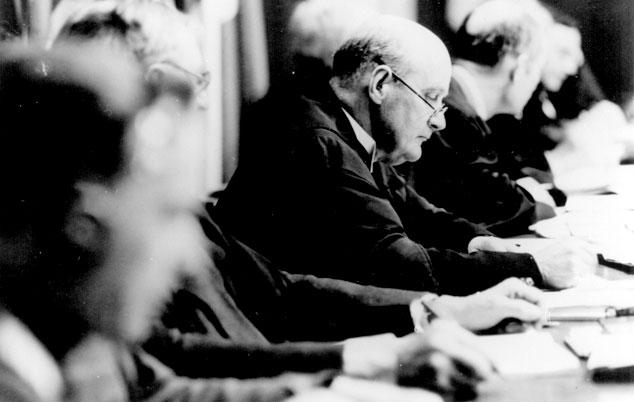 The Judges
Each nation appointed one primary judge and one alternate.
U.S.
Francis Biddle (primary judge)
John J. Parker (alternate judge)
Great Britain
Sir Geoffrey Lawrence (primary judge and President of the IMT in Nuremberg)
Norman Birkett (alternate judge)
France
Henri Donnedieu de Vabres (primary judge)
Robert Falco (alternate judge)
USSR
Iona T. Nikitschenko (primary judge)
Alexander F. Voltschkow (alternate judge)
Prosecutors
Each of the four victorious Allies appointed its own prosecution counsel for the Nuremberg Trial. The Chief Prosecutors were:
U.S.: Robert H. Jackson
Great Britain: Sir Hartley Shawcross
France: François de Menthon/Auguste Champetier de Ribes (ab Januar 1946)
USSR: Roman A. Rudenko
Among the prosecution attorneys, Robert H. Jackson played a special role because he was deeply involved in the organization and design of the proceedings before the trial commenced.